Silver Geometric Ear Studs with Genuine European Crystals
Description
This beautiful jewelry piece, Geometric Ear Studs with Genuine European Crystals, is from our La Crystale category and makes the perfect addition to your jewelry assortment. Crafted from high-quality 925 Sterling Silver with Rhodium Plated finishing, this piece has a silver weight of 0.5 g and measures 6 mm x 8 mm. The piece comes in various la crystale colors.
CHARACTERISTICS
Material :
925 Sterling Silver
Finishing :
Rhodium Plated
Genuine European Crystal :
Nr. of Stones : 2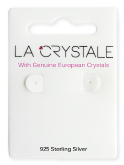 Free
For every item from

that you purchase you will receive a separate branded card that you may want to use to display the jewelry in shop.